While this year has been one for the books, SSSAD would still like to mention some outstanding coaches and volunteers.
Every year, SSSAD hosts the Coaches Luncheon, sponsored by TCU. It allows for outstanding teachers, coaches, and volunteers to be recognized. These hard working individuals are what make high school athletics possible. 
While this years' luncheon was cancelled due to COVID-19, SSSAD would still like to acknowledge all the effort that went into this years' athletics programs. 
Please read on to find out about this years winners.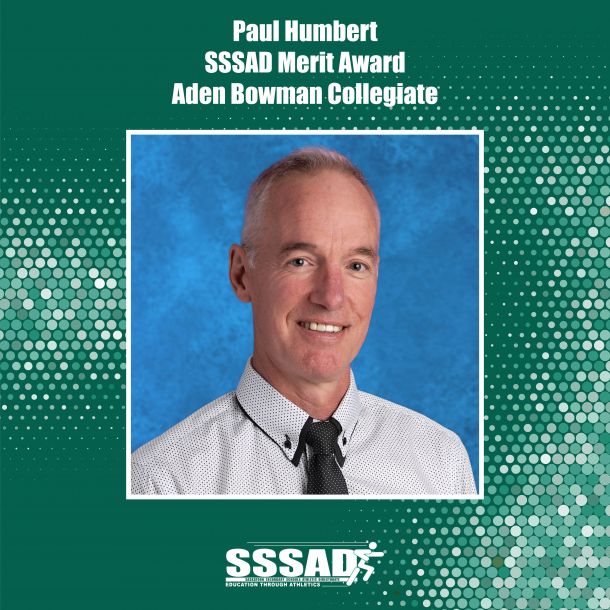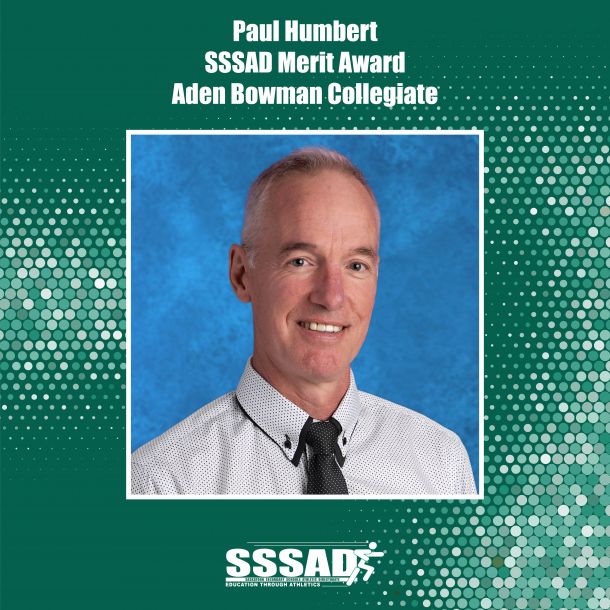 Paul Humbert – Aden Bowman – SSSAD Merit Award
Paul coached at Luther for 10 years (1986 – 1996) where his teams participated in Hoopla multiple times winning several medals, but never the Gold. While at Luther Paul's team won the LIT title in 1990. When arriving back in Saskatoon, Paul coached at Aden Bowman serving as their Senior coach for five years.  At Aden Bowman Paul's teams went to Hoopla each year, winning gold in 2003.  Paul went into administration, and while he was the Principal at City Park, he started the City Park Eagles basketball team and coached them for two years.  During that same time Paul coached the Sr. Girls basketball team at Bowman, making it to Hoopla both years. When Paul is not coaching, he enjoys supporting teams as an administrator. Thank you for your service to SSSAD, Paul, and we wish you all the best!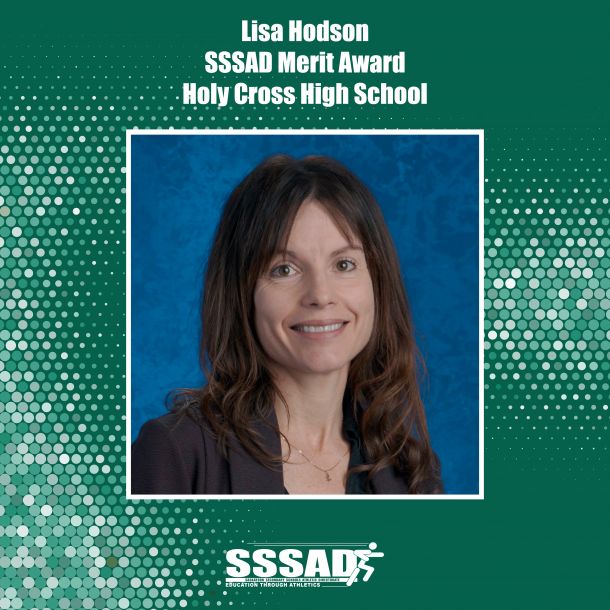 Lisa Hodson – Holy Cross – SSSAD Merit Award 
Lisa started her coaching and teaching career at E.D. Feehan in 1991. While it was only one semester, she jumped in with both feet to coach Track & Field. She moved to Holy Cross High School and coached both Junior & Senior Girls Volleyball and Track & Field for 17 years. She also sat at the SSSAD board table for two years with she worked hard to rebuild extracurricular programs when she moved back to E.D. Feehan. She also began her long tradition of volunteering with SSSAD's City Track & Field Championships. She went onto become Assistant Principal's at Bishop J. Mahoney, then Holy Cross again, and finally Principal at Holy Cross. Despite the move into an administrative role, Lisa maintained her commitment to athletics and extracurricular being front and center and supporting coaches and athletes every step of the way. Very sadly for the coaches and athletes of Holy Cross, Lisa was again on the move in January of 2020, and accepted a very prestigious job as a Senior Administrator with the STF.
Thank you, Lisa for all you have given and done for staff and students in Saskatoon, you are missed already!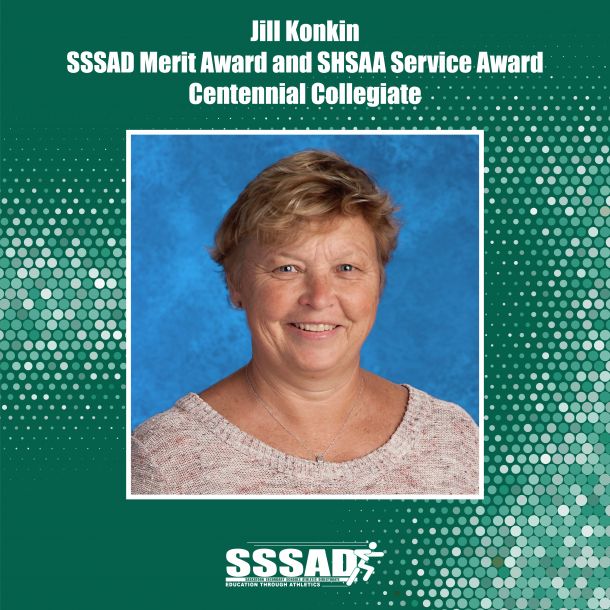 Jill Konkin – Centennial – SSSAD Merit Award and SHSAA Service Award
Jill Konkin has been actively involved in school extra-curricular programming since she began her career as an educator.  She started teaching in 1984 in Kerrobert and jumped right into coaching.  Throughout the next 36 years she coached a combined total of 63 sport seasons in basketball, soccer, cross-country, and track and field.  Athletics and Wellness have always been priorities in her family as well and this has been evident in her professional practice.  In addition to coaching, Jill helps organize and run tournaments and is involved in numerous clubs and school activities.  Jill has also provided leadership and mentorship to many young educators and has always modeled the importance of engaging students in their learning.  Jill has had a positive impact on many students and athletes and has made significant contributions to Saskatoon Public Schools over the past 34 years.   She will be deeply missed as she heads into retirement to take on new adventures.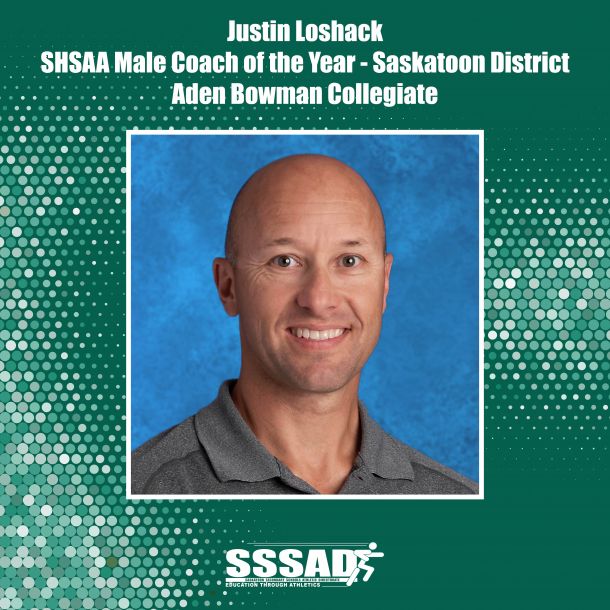 Justin Loshack – Aden Bowman – SHSAA Male Coach of the Year – Saskatoon District
Justin began teaching in 2000 with stops at Walter Murray, Evan Hardy, and Aden Bowman and has coached at least one sport in SSSAD since the spring of 1992.  Justin has spent much of his career coaching Football and Track & Field, winning City Championships in both!  Justin is a demanding, yet patient coach, who can get the most from his student athletes. Congratulations on your exemplary coaching, Justin!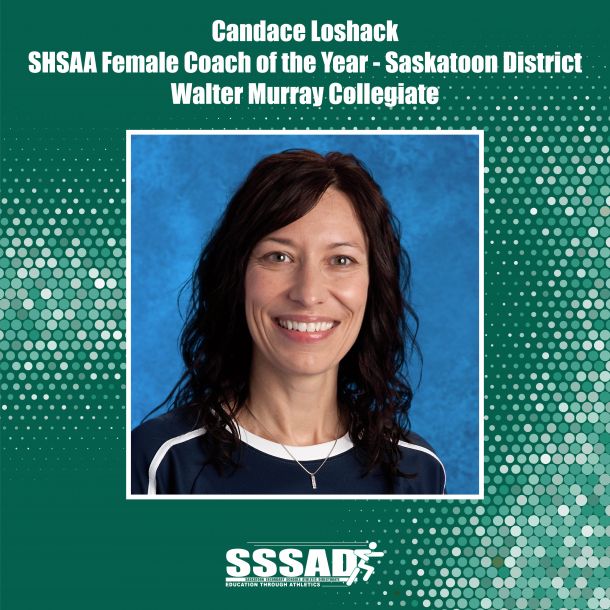 Candace Loshack – Walter Murray – SHSAA Female Coach of the Year – Saskatoon District
Candace has been coaching basketball and volleyball for 23 years at Aden Bowman, Marion Graham and Walter Murray.  Candace is an extremely positive role model and always has the best interest of her athletes at heart.  She works diligently to ensure that all her athletes have a positive experience and leave her teams as better human beings.  Candace does an incredible amount of work behind the scenes to help host events and organize the entire athletic program. Congratulations Candace on your exceptional coaching!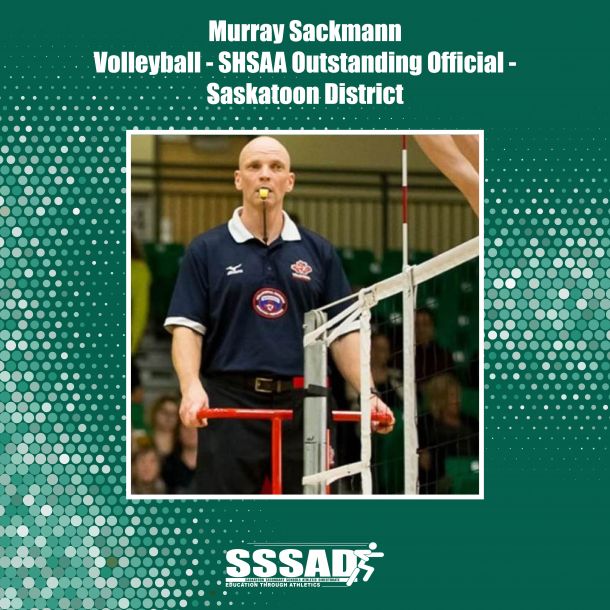 Murray Sackmann – Volleyball – SHSAA – Outstanding Official – Saskatoon District
Murray is a National Level Volleyball Official and has officiated Volleyball for SSSAD since 1994!  He has been one of the top officials in the city and usually officiates the most important games. He is always personable to coaches and willing to help younger officials get better.  When Murray is referring the game, you are ensured it will be fair and done at the highest level. Thank you, Murray for your commitment to making high school sport fair!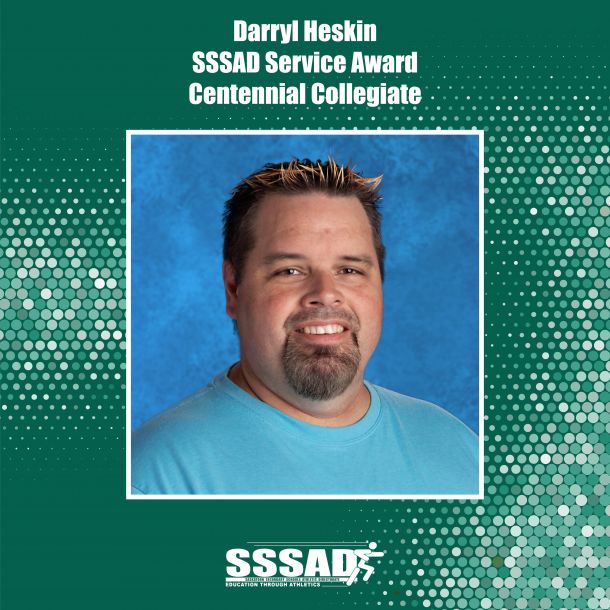 Darryl Heskin – Centennial Collegiate – SSSAD Service Award
Darryl Heskin is a valuable contributor to SSSAD Athletics and a deserving recipient of the SSSAD Service Award.  Darryl is the go-to person to be the announcer at sporting events.  From playoff games, to tournaments, to provincial championships, Darryl is always happy and excited to be announcing.  In addition to many individual sporting matches, Darryl has been the voice of very prominent sporting events; BOWLT, HOOPLA, and Soccer Provincials.  He also provides excellent vocals for O'Canada prior to the start of games and for opening ceremonies.  SSSAD is thankful for Darryl's contributions to sport and look forward to hearing his voice in the gym for years to come.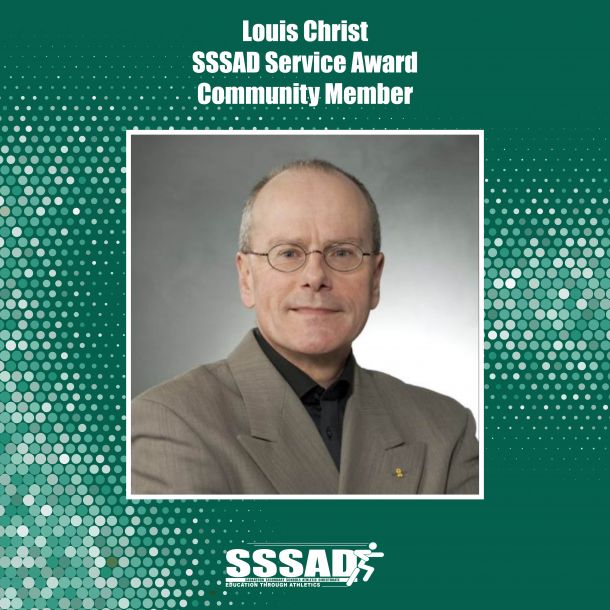 Louis Christ – Community Member – SSSAD Service Award
Louis has been an invaluable asset to SSSAD over the years.  He has true love of sport!  You can see Louis at most every SSSAD event with his camera in tow taking thousands of photographs.  The action shots that he captures are amazing quality and he spends a tremendous amount of time organizing and editing them for his website, which is free for everyone to enjoy!  Louis has always been willing to lend a hand around Cross Country and Track & Field (where he was a tremendous athlete), sitting on provincial championship organizing committees.  Louis also helps with elementary school relays with his wife Janet.  SSSAD is thankful for Louis's contributions to high school sport and we look forward to enjoying his photographs for years to come!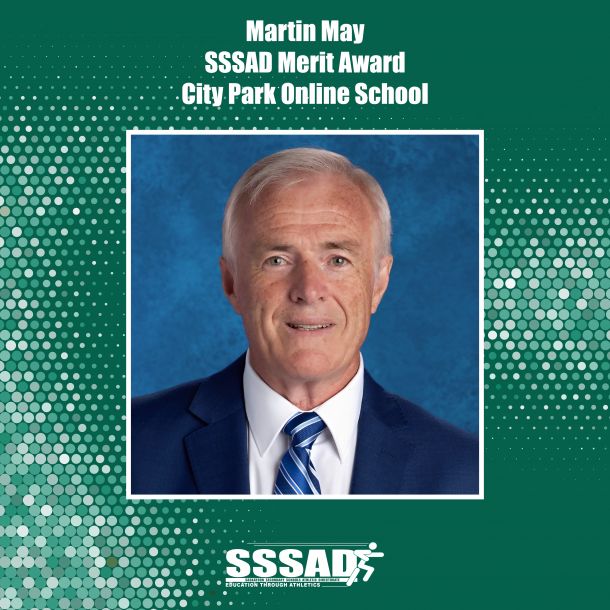 Martin May – City Park School – SSSAD Service Awards
Coaching basketball against Martin's teams was always a difficult challenge.  They were very hard working, disciplined, and played as a cohesive unit.  They also had tremendous sportsmanship and respect for other teams.  All these attributes reflect Martin's character. Martin's coaching career spanned over four decades at various schools around the city, and also where Martin had his start with teaching and coaching in Alberta. Martin spent the largest majority of his time coaching Junior and Freshman boys Basketball at Mount Royal and Aden Bowman from 1990 to 2009. Thank you so much Martin for your tremendous coaching and teaching career. SSSAD would like to wish you the best in your retirement.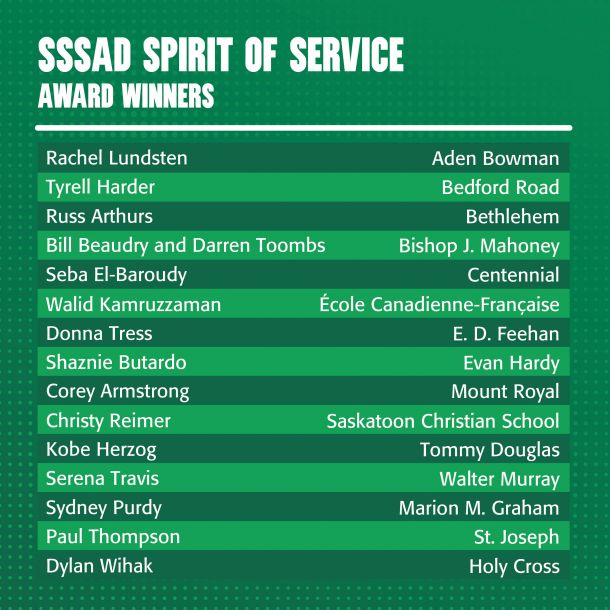 The Spirit of Service Awards
The Spirit of Service awards are given to one or more individual from each high school involved in SSSAD. They have contributed in some capacity to their school's athletic program. SSSAD commends each of these driven individuals and wishes them the best in the fall!